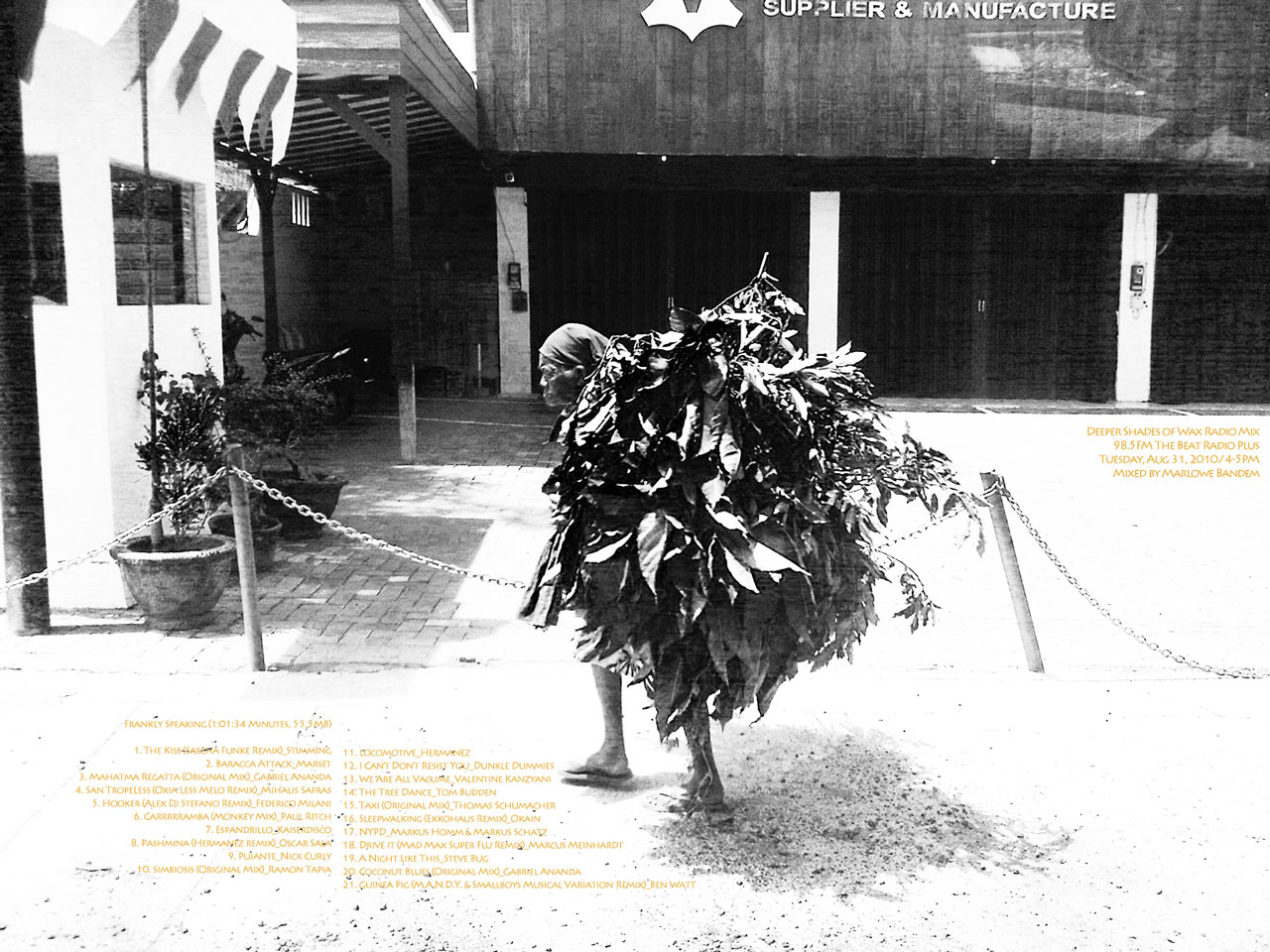 Deeper Shades of Wax Radio Mix / 98.5FM The Beat Radio Plus / Tuesday, Aug 31, 2010 / 4-5PM / Mixed by Marlowe Bandem
This is a cut of a DJ set that i played out during the fund raising night Fight Franky Fight (Aug 29, 2010 – Porky's Renon); a gathering to support the one and only Franky Sahilatua (Indonesian musician, singer, song writer, poet, activist) currently hospitalized in Singapore from a complication of illness.
Live Franky Live: Our heart, thoughts and prayers goes out to you!
Frankly Speaking (61:34 Minutes , 55.5MB)
1. The Kiss (Sascha Funke Remix)_Stimming
2. Baracca Attack_Marset
3. Mahatma Regatta (Original Mix)_Gabriel Ananda
4. San TropeLess (Oxia Less Melo Remix)_Mihalis Safras
5. Hooker (Alex Di Stefano Remix)_Federico Milani
6. Carrrrramba (Monkey Mix)_Paul Ritch
7. Espandrillo_Kaiserdisco
8. Pashmina (Hermanez remix)_Oscar Sala
9. Pujante_Nick Curly
10. Simbiosis (Original Mix)_Ramon Tapia
11. Locomotive_Hermanez
12. I Can't Don't Resist You_Dunkle Dummies
13. We Are All Vacume_Valentine Kanzyani
14. The Tree Dance_Tom Budden
15. Taxi (Original Mix)_Thomas Schumacher
16. Sleepwalking (Ekkohaus Remix)_Okain
17. NYPD_Markus Homm & Markus Schatz
18. Drive it (Mad Max Super Flu Remix)_Marcus Meinhardt
19. A Night Like This_Steve Bug
20. Coconut Blues (Original Mix)_Gabriel Ananda
21. Guinea Pig (M.A.N.D.Y. & Smallboys Musical Variation Remix)_Ben Watt

Wholehearted micro-banking supervisor, host of Deeper Shades of Wax Radio Mix 98.5FM TBRP (2009-2011), digital-arts lover & eco-defender urban yuppy on fixed gears!