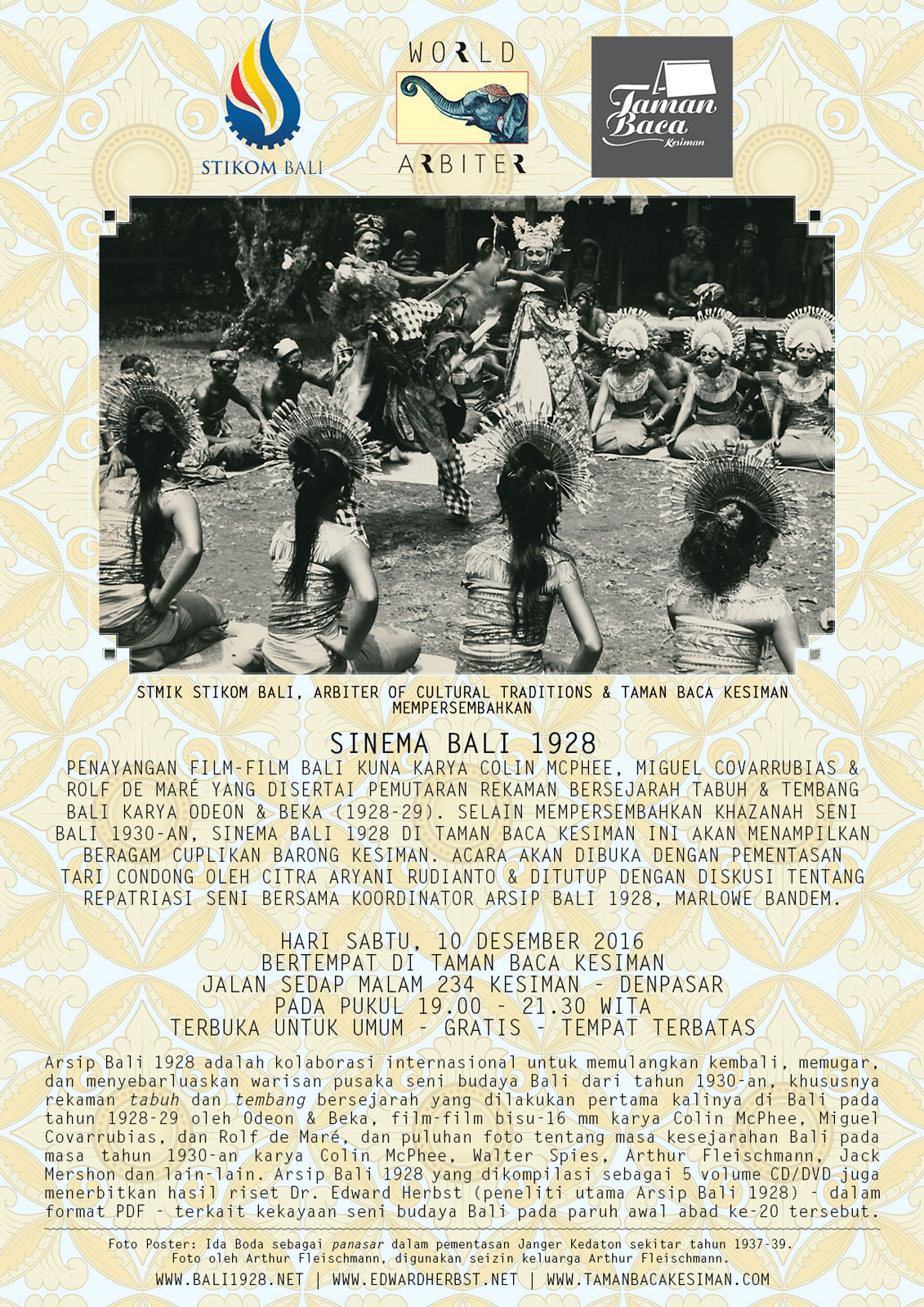 Teman-teman yang budiman, mari bergabung dan ikuti acara Sinema Bali 1928 pada hari Sabtu, 10 Desember 2016, mulai pukul 19.00 WITA, bertempat di Taman Baca Kesiman (Jalan Sedap Malam No. 234, Kesiman – Denpasar).
Kami akan melakukan penayangan film-film Bali kuna tahun 1930-an karya Colin McPhee, Miguel Covarrubias, dan Rolf de Maré yang disertai pemutaran rekaman bersejarah tabuh & tembang Bali karya Odeon & Beka (1928-29).
Selain mempersembahkan khazanah seni Bali masa tahun 1930-an, Sinema Bali 1928 di Taman Baca Kesiman ini akan menampilkan beragam cuplikan baru tentang Barong Kesiman. Acara akan dibuka dengan pementasan tari Condong oleh penari muda, Citra Aryani Rudianto dan ditutup dengan diskusi tentang repatriasi seni bersama koordinator arsip bali 1928, Marlowe Bandem.
TERBUKA UNTUK UMUM – GRATIS – TEMPAT TERBATAS
Arsip Bali 1928 adalah kolaborasi internasional antara STIKOM Bali, Arbiter of Cultural Traditions dan Dr. Edward Herbst untuk memulangkan kembali, memugar, dan menyebarluaskan warisan pusaka seni budaya Bali dari tahun 1930-an, khususnya rekaman tabuh dan tembang bersejarah yang dilakukan pertama kalinya di Bali pada tahun 1928-29 oleh Odeon & Beka, film-film bisu-16 mm karya Colin McPhee, Miguel Covarrubias, dan Rolf de Maré, dan puluhan foto tentang masa kesejarahan Bali pada masa tahun 1930-an karya Colin McPhee, Walter Spies, Arthur Fleischmann, Jack Mershon dan lain-lain.
Wholehearted micro-banking supervisor, host of Deeper Shades of Wax Radio Mix 98.5FM TBRP (2009-2011), digital-arts lover & eco-defender urban yuppy on fixed gears!