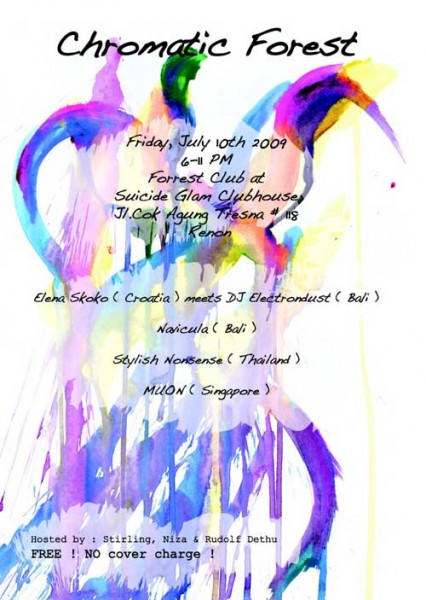 As a DJ, I'm quite fortunate to meet and interact with so many interesting arty personalities that stimulates my game to a higher level; not only in terms of skills and techniques, but most importantly to the overall comprehension towards the art form itself.
During mid July, good friends of mine, Stirling, Niza, and Dethu organized a trans-global underground weekender titled Chromatic Forest at the open spaces of Forrest Club, Renon. The event featured a melting of pot of trans-national musical acts including Stylish Nonsense (Thailand), MUON (Singapore), Elena Skoko aka Sugar Babe (Croatia) collaborating with me under the guise of DJ Electrondust (Bali), and Navicula (Bali) featuring Raoul Thomas Wijffels (Netherlands).
I do concur with Dethu, Chromatic Forest was truly a cross-border musical matrimonial where diverse colors of sound met, from the free-spirited improvisation of jazzy lounge sounds of Stylish Nonsense, to the lush instrumental soundscapes of MUON embodying their spirited machines, to the revolting awesomeness of Navicula green grunge.
In the midst of anticipating the band performances, Elena Skoko aka Sugar Babe took on center stage, nodding calmly to me to keep the tempo of the minimal goodies being employed for setting the night's mood.
Rewind: During our first encounter a couple days before the gig, I learned plenty about Elena, and I can say openly that she strives for creative ingenuity; a multitalented performer embracing and incorporating diverse aesthetic realms not limited to photography, fashion, music, video, graphic design, street guerilla, poetry, as well as mystical language. Elena redefines happening arts and the arty zest of human soul exploration for artistic containment.
Forward: She paused, I gave her room by muting the music, and then out of the blue, she wholeheartedly recited a number of poems , soaring over and ducking below the beats and grooves being blasted over the pumping speakers. Her nature of speech – singing like – is nearly always rhythmically to a set spontaneously mixed; gladly interacting and accentuating her graceful poise.
For me and the joyful intoxicated crowd, Elena and her multilingual poetry arouses strong emotions, somewhat strange and most definitely beautiful. Love was truly in the air.
It seems we've managed to be a great start; soon after us, Stylish Nonsense commenced their craftsmanship in mesmerizing the openhearted crowd, then the duo Nick and Edwin of MUON continued the mass hypnotizing of the liquor fueled audience (Nick himself was already in a state of trance by then), and by the time the contemplative rage of Navicula was channeled through the more and enough sound system; everybody screamed "we are chromatic, we want more".
I cruised my way, concluding the night pumping the likes of Afrilounge, Alexi Delano, and Akiko Kiyama; all is intimate, all is well, all is content. Over the strong, sweet flavored alcoholic brew, Pok of Stylish Nonsense, Dethu and me looked on to each other, agreeing that the universal features of music makes us all lively.
*** Elena Skoko meets DJ Electrondust videos @ Chromatic Forest 2009
// Poetry is Like * Hunting Fever * La Peur
Wholehearted micro-banking supervisor, host of Deeper Shades of Wax Radio Mix 98.5FM TBRP (2009-2011), digital-arts lover & eco-defender urban yuppy on fixed gears!