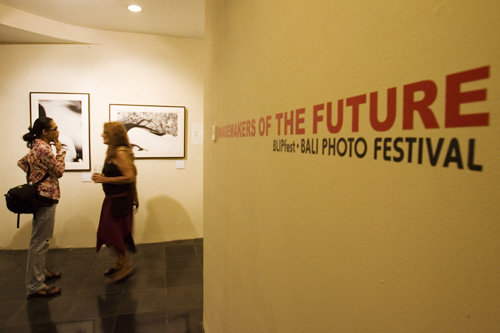 It was all smiles, giggles, and hugs during the opening night of the"Imagemakers of the Future" exhibition at Alila Ubud last Saturday, October 10, 2009. It was truly a change of scenery from the seemingly strained, hustle and bustle of preparations couple of days earlier. I'll take this moment to pause, pose, and snapshot the rejoicing grin on my face.
For those yet to visit, "Imagemakers of the Future" is a photography exhibition showcasing the creative outputs of eleven Indonesian photographers, who so far are engaging short yet established careers in the field. Encompassing different genres of the photographic spectrum, these talented youngsters do typify the future image makers of the already rich Indonesian photography.
The group includes Made Nagi (Photojournalist), Eka Nickmatulhuda (editorial, photojournalism), Sonia Prabowo (commercial, fashion, portraiture), Muradi (photojournalism), Andika Wahyu (sports, photojournalism), Tjok Bagus Kerthyasa (travel, documentary), Andi Ari Setiadi (photojournalism, fine art) , Diana Putri (travel, movie stills), Eric Chang (commercial, fashion, portraiture), Gus De (editorial) and Nicoline Patricia Malina (fashion).
Meanwhile, the curatorial board responsible for nominating and selecting the photographers and artworks include senior Indonesian photographers Darwis Triadi, Firman Ichsan, Oscar Motuloh, and Rio Helmi.
First of all, the exhibition presents various creative styles (genre) of photography, to which all advances comprehensive testimony, remembrance, and critique upon realities enclosing us; appreciations that are not only honest and factual, but most significantly conveyed in an artistic manner. I do believe that photography is such an expressive language in revealing the veracity of a story, as well as a reflective surface for discourses full of multidimensional comprehensions and interests.
For me, large portions of the artworks art artistically crafted and precisely portray the dynamism of life at once. The portrayal of realities are aesthically pleasing, yet not blurring the truth lurking behind each and every moment.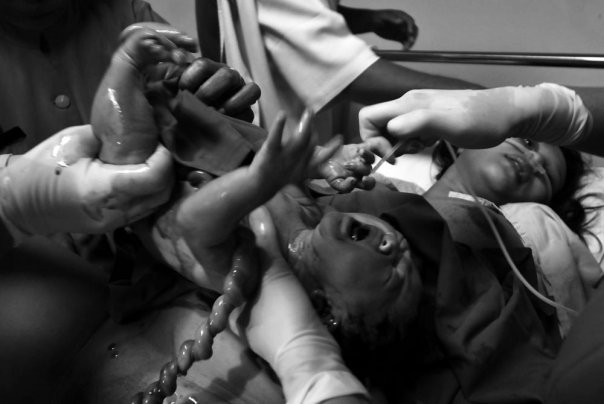 For example, the artworks of Eka Nickmatulhuda; a beamingly-fun-religious-conservative Betawian girl that visited the Philiphines in 2006, embarking a solo creative adventure. Therein, she managed to get permit to visit a birth center and maternity hospital for the poor at the outskirts of Manila, and used the camera as her diplomatic passport to make sense about the substandard social reality. Her black and white pictures are powerfully evocative and staggering. At first glance, Nickmatulhuda augments a story about medical misfortunes, hardships of labour, babies yearning for warmth. But once embraced, her pictures depict a spiritual sensation that even in the harshest of conditions, heartbreaking screams of mothers in labour and cries of newborn babies will ultimately result in something wonderful, it's a blessing in disguise.
Furthermore, we can attain fruitful lessons from the adventures of these young photographers. Look at the works of Tjok Bagus Kerthyasa, a Balinese royalty, born and raised in Sydney, Australia in 1980. Seemingly bored with the burden of a (his) good earth, he went on a lengthy and tiresome trip backpacking across Indo-China countries such as Burma and Thailand – curiously and jubilantly taking pictures, reporting his keenness and sharpness in capturing the alien circumstances of societies and cultures and their subsequent development in those countries. This purports a form of visual anthropology, where the daily activities of social community can be analyzed from a collection of clear and concise photographs. For all its worth, this is the educational aspect of travel photography.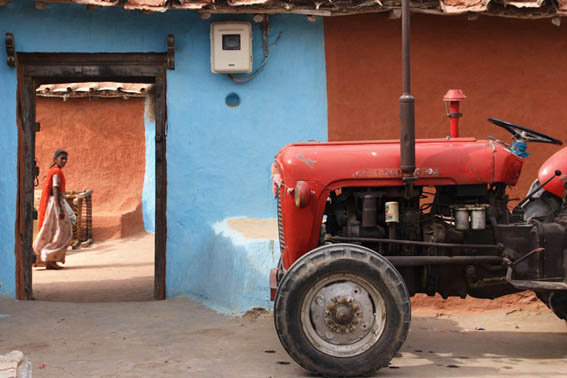 Another personal favorite is the artworks of Made Nagi. Well it's easy to like Nagi, following his all-embracing charms. He projects a humble, polite personality that  seems to shine vividly in his creations. In 2005, Nagi was selected for an apprenticeship under the wings of John Stanmeyer and Gary Knight of VII Photo Agency, and currently is member of the EPA – European Pressphoto Agency. His photograph "The President" (Matte Paper, 35 x 23 cm) depicting the weary yet elated East Timorese presidential candidate Ramos Horta shaking hands with his supporter during a campaign in Dili, East Timor is just an example about Nagi's eagerness for photojournalism. The documentation of critical moments are bursting with artistic touches – angle, lighting, and focus – indicating outstanding creative awareness upon the sensational points of the moment itself, to which makes his artwork stirring yet ingenuous.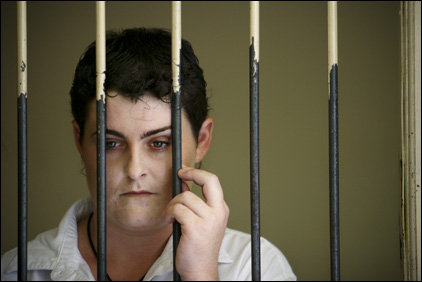 The works of Eric Chang and Gus De also excites me, particularly their capabilities in composing somewhat genial out of celebrities. The mesmerizing gaze of Krisdayanti (singer, popstar) in the portrait "Mother Queen Mummy" or Butet Kertaredjasa (comedy jenius) puffing a cloud of smoke in "Angry Bull" not only suggests Eric Chang's familiarity to socialites, but also his all-embracing exploration about themes and titles that portray the subjects fittingly from all angles. Seriously, "Mother Queen Mummy" really captures the notion about the tensions in preserving stardom as well as a faithful housewife. I guess, it's always nip and tuck between the two.
Meanwhile, working with the likes of "bad boys" Superman Is Dead (SID) for a magazine spread, Gus De not only shows his liking to the rock-star lifestyle but also his inventiveness in keeping the perception of "rebelliously cool" something close to home and real. Moreover, the use of plastic ducks in those pictures impeccably represents the band's attitude about ignoring harsh and ill judgement about their art; "followers" can only quack! But what really strikes me is Gus De's knack for surrealism, to which is evident in his landscape photography as grayscale topography seamlessly bonding, blurring the line of fact and fantasy. Salut!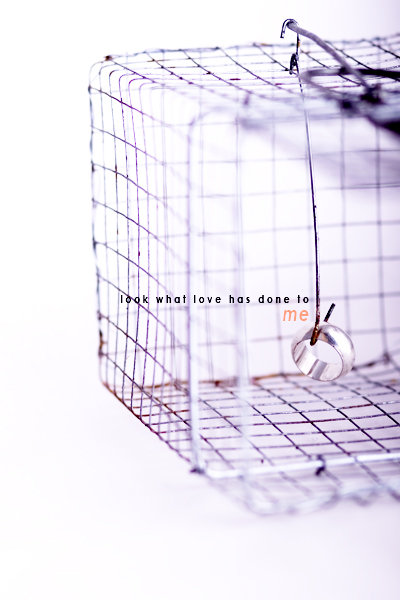 As a digital art fanatic, I can't contain myself seeing the works of Sonia Prabowo. I'm really fond to her style and how she "flirts" with established themes such as the consciousness of the beauty, sensuality, and love/hate relations. For me, she is truthful in being playful to all possibilities, to embrace what the day brings, stand out and be different. While her artwork seems as a reflection to her personal longings, it utters universality. Artists do maintain their edge provided one loathes something so bad, or love something so dearly.
Overall, its an exhibition worth viewing. Do visit the exhibition, go blip yourself at Alila Ubud, and enjoy "Imagemakers of the Future".
*** "Imagemakers of the Future" is a pre-event of BLIPfest (Bali Photography Festival) that will commence late September 2010 in Bali. Hosting an array photography exhibitions, workshops, and seminar, BLIPfest 2010 is a creative medium for the aesthetic and artistic energies of Indonesian photography to foster cultural interactions among Indonesian photographers and the global world.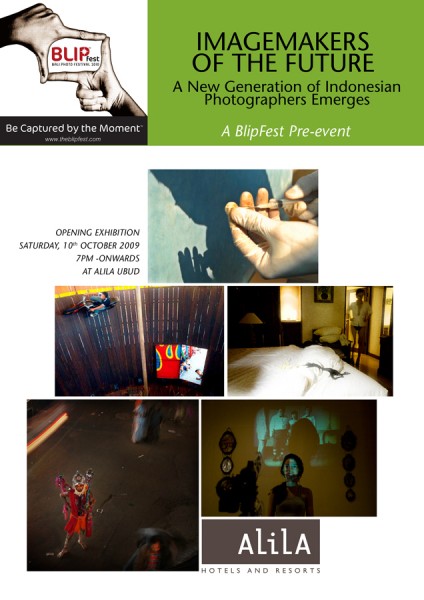 Wholehearted micro-banking supervisor, host of Deeper Shades of Wax Radio Mix 98.5FM TBRP (2009-2011), digital-arts lover & eco-defender urban yuppy on fixed gears!