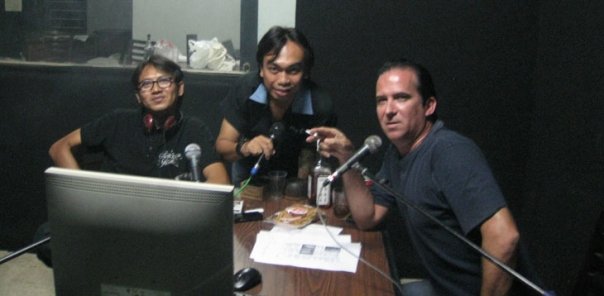 The Block Rockin' Beats is a new radio show in Bali, airing every Wednesday, 8-10 PM, on The Beat Radio Plus 98.5 FM, hosted by Rudolf "Suicide Glam" Dethu.
First and foremost, The Beat Radio Plus 98.5 FM  is an underground non commercial radio station, more music less bullshit, the forefront of ideals – a collaborative venture between close friends Mamsa and Stuart of The Beat Magazine Bali. The radio has limited programs, but overall it transmits among the best music throughout the island.
Late August, during one of our beer fueled late afternoon discussions, Dethu came up with the concept of "The Block Rockin' Beats",  a program exploring and focusing on the majestic awesomeness and hailing energies of rock, a genre that actually is distant to the frequent showcasing of thumping beats and blazing electronica basslines by the radio.
The concept is simple: invite, nominate and select a personality with great musical interest, request a playlist – preferably rock, play it out loud, and let the music presenter in charge, elaborate about their compilation.
In an instance, I commended Dethu's idea and outpouring gusto, not only because it would be a great addition to the musical presentation of The Beat Radio Plus, but more so because the show would become a venue for all of us, aspiring DJs and trainspotters alike, to enact deeper and wider insights about the rock repertoire of individuals shredding and bombarding the starry-starry night with their arsenal of favorite tunes.
For me, firstly, as a DJ, you really want to have a radio show, or at least play a set out loud on the radio, and transmit the "best of me" over the airwaves. It not only complements your CV, but it redefines the purpose of being a performer as you don't have the vaguest idea if people are tuning in and giving a listen to you. You want to embrace the still and silent moment, you embark contemplation, you discontently tame the monkey behind your back, and you embrace a soulful journey to connect to the masses: keeping it all REAL.
As far as I can remember in this short attention span of mine, some of my most enjoyable performances were those as guest DJ over at The Beat Radio Plus. (A big shout out to Stuart; remember remember the www.fuckedupbali.com shows).
Moreover, a radio show hones your personal capabilities to rethink a phenomenon, create a theme and sort out tracks into a mesmerizing compilation for the pleasure of the demanding public. It's scientifically creative, you are expected to create flow, tension plus build up drama using your set, just like a rockstar you want your fanatics to beg for more.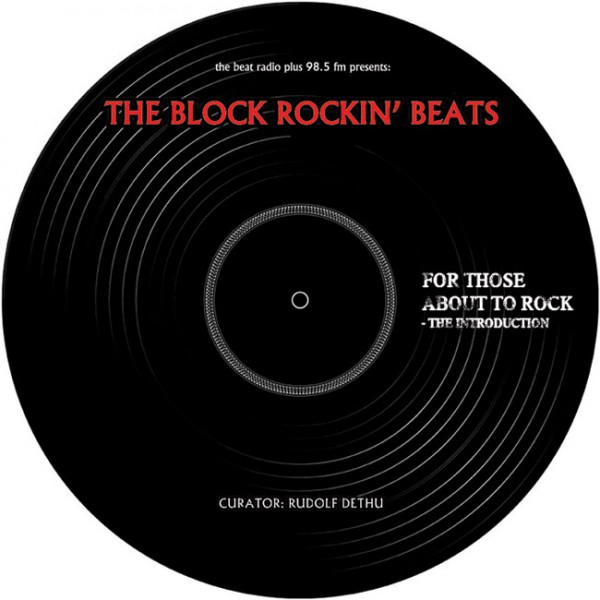 What I like and look forward in regards to The Block Rockin' Beats is the rock retrospective; opportunities to relive rock history. Even though now a days I put more focus on the genres of electronic music; techno, minimal, and IDM, I do know that I (well most of us) have the propensity to rock. I was exposed to the likes of Beatles, Rod Stewart, Iron Maiden, and Queen at an early age, which subconsciously became the "coming of age" soundtracks for me. When I decided to be a rock hero myself (which I bluntly failed), Vai, Hendrix, Saraceno, and Satriani were always there, haunting me about the lack of 8 hours daily practicing.
And this is why I lovingly anticipate The Block Rockin' Beats and Dethu. Dethu is a walking encyclopedia of rock, he embodies the spirit of the genre, mention one rock icon and he'll give you a crash course into rock science. He doesn't plaster his wall with iconic images (at least not anymore), but his hard disk is one library worth nabbing. He's not your average heavy metal joe: he puts the time and effort to meticulously sort out the tunes, he harmonically mixes by heart, specifying a theme, all in frame of good fun rock education.
His first set during the inauguration of the show (09/09/2009) was a mouth watering compilation titled "For Those About To Rock: An Introduction" – the splendors of mighty hard rock from AC/DC to Guns N' Roses, from Beastie Boys to Apollo 440. After an hour, I was caressing the memories of my teenage wasteland years, and begging for mercy at the end of the 2 hour show. The show was swift, truly worth listening, a journey back to the golden age of spanking rock and metal mayhem. Mano Cornuta all night long!
Anyways, all is good; can't wait to tune in again for another epic show. To end, this is an open submission to Dethu, I want in brother!
Learn more about The Beat Magazine Bali here, and The Beat Radio Plus here. Connect to Dethu here.
PS. I never heard Pasukan Perang Dari Rawa by Komunal, now I'm desperately seeking for a copy.
Wholehearted micro-banking supervisor, host of Deeper Shades of Wax Radio Mix 98.5FM TBRP (2009-2011), digital-arts lover & eco-defender urban yuppy on fixed gears!