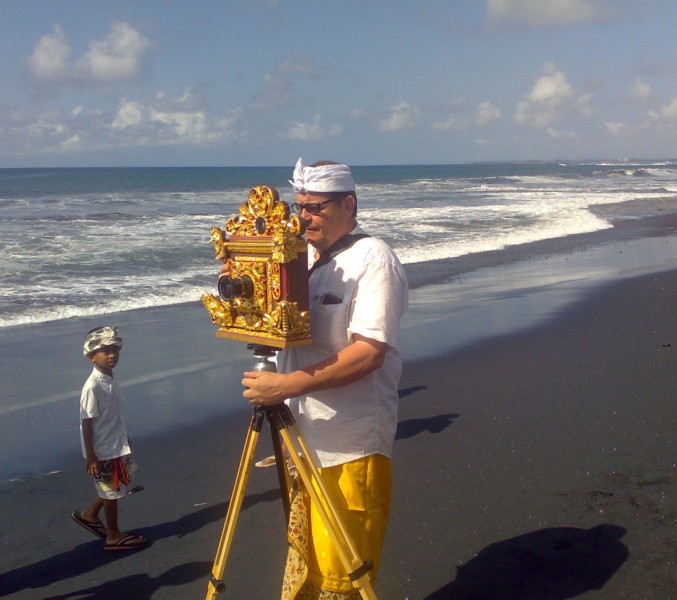 Only in Bali that you would find pictures such as this.
This picture tickles me in certain ways.
I mean, I've seen guitars ornamented with Balinese carvings, I've owned billiard cues decorated with carvings of mythical Balinese creatures, but this immaculate shrine-like camera body is the first for me. It may seem impractical, but its surely a bold statement about the unyielding devotion to the art form – which is exactly how the Balinese attributes aesthetic beauty into every aspect of their lives. Intentions must be pure, actions must be truthful, and most significantly, all must be performed beautifully.
I just wonder, with such embodiment of Bali, including the traditional attire – blending in for the sake of capturing picture perfect moments would seem far-fetched. This enthusiastic photographer is too much of a scene, I guess. For once, the camera is on him, a far more interesting sight in contrast to the on-going ritual ceremony itself!
I give A for the camera case, and A+ for being a moment worth capturing.
Whatever this might be, it's a fine example about the open space and scape of Bali, where ingenuity, creativity, and just being yourself, typically in unusual manner  lies close to the heart of being Bali.
***This picture was captured by Goje, a phone photographer during the Ngusaba Nini processions, Batuan village, on September 9, 2009. Simply put, Ngusaba Nini refers to harvest season blessings; a ritual ceremony dedicated to the rice goddess Dewi Sri.
Wholehearted micro-banking supervisor, host of Deeper Shades of Wax Radio Mix 98.5FM TBRP (2009-2011), digital-arts lover & eco-defender urban yuppy on fixed gears!