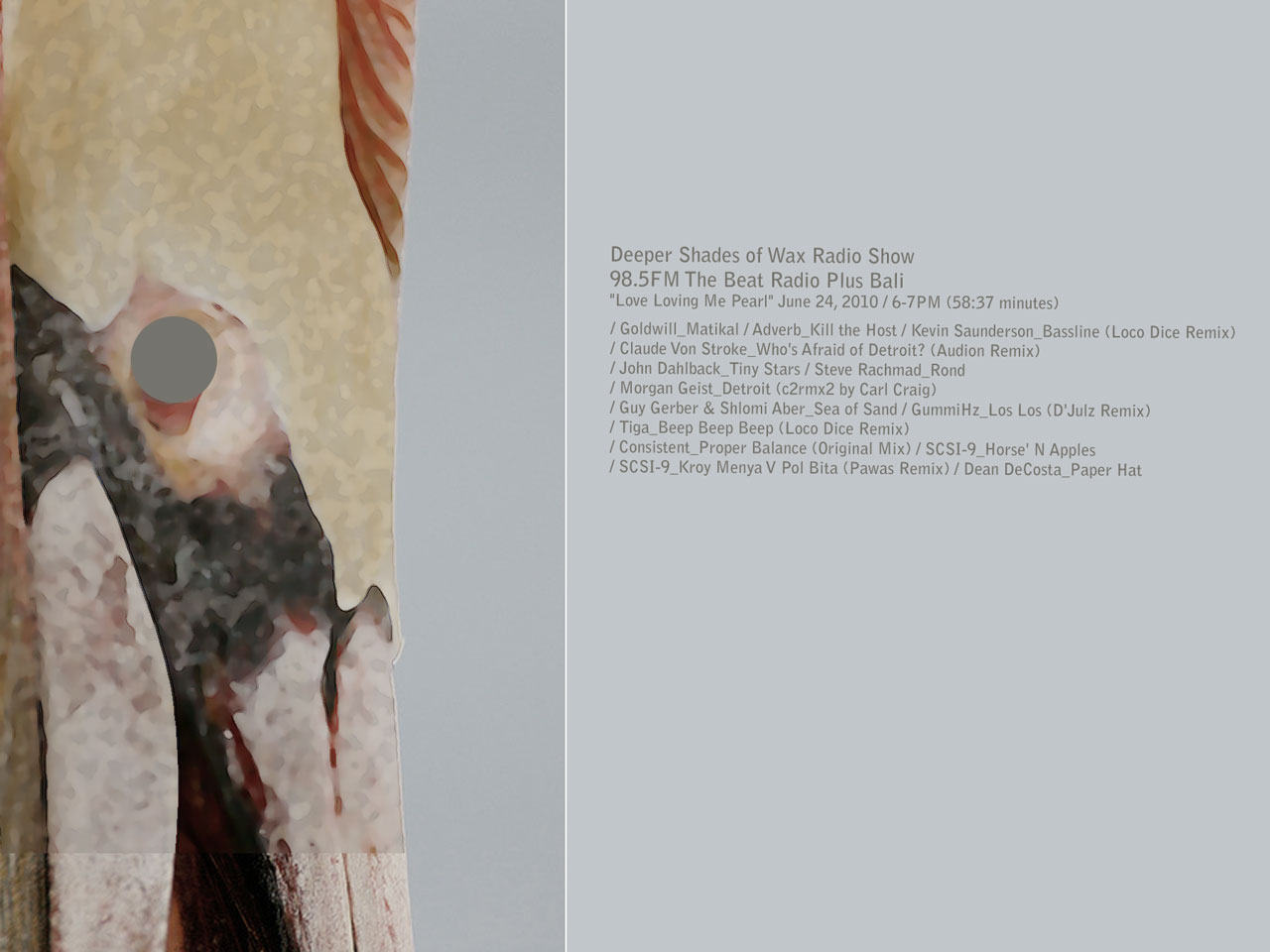 Deeper Shades of Wax Radio Show @ 98.5FM The Beat Radio Plus Bali
"love loving me pearl" DJ Mix by Marlowe Bandem, Thursday, June 24, 2010 from 18.00-1900 WITA
To say Steve Rachmad plays interesting dance music is an understatement. He spins intelligently, tech-mospheric to the utter most, mind body soul.
"love loving me pearl" is a cut up of a DJ set – supposedly a cooling down one – I did early morning at home for friends post Steve Rachmad's gig at rooftop S0S Anantara (June 18, 2010). Steve Rachmad, the living legend of everything tech from the Netherlands really tech-blazed the intimate privileged beauty of a crowd that night. Together with the funked-up Patrick Bodmer, the integral half of M.A.N.D.Y. who spun two days earlier (June 16, 2010) at the same venue, both surely set the standards and fulfilled the weekly doze of good music, tech-house and techno that is for Bali.
"We love techno", said Silvie B. Nebauer of Massivevibrations VIA Bali as we danced and danced to the underground beats welcoming the dawning days of tomorrow. Enjoy.
"love loving me pearl" (58:37 minutes) tracklist:
Goldwill_Matikal / Adverb_Kill the Host / Kevin Saunderson_Bassline (Loco Dice Remix) / Claude Von Stroke_Who's Afraid of Detroit? (Audion Remix) / John Dahlback_Tiny Stars / Steve Rachmad_Rond / Morgan Geist_Detroit (c2rmx2 by Carl Craig) / Guy Gerber & Shlomi Aber_Sea of Sand / GummiHz_Los Los (D'Julz Remix) / Tiga_Beep Beep Beep (Loco Dice Remix) / Consistent_Proper Balance (Original Mix) / SCSI-9_Horse' N Apples / SCSI-9_Kroy Menya V Pol Bita (Pawas Remix)/ Dean DeCosta_Paper Hat
Click here to stream Deeper Shades of Wax Radio Show: love loving me pearl (Continuous Mix – Various Artists) or you can always right click and save as… to download.
Wholehearted micro-banking supervisor, host of Deeper Shades of Wax Radio Mix 98.5FM TBRP (2009-2011), digital-arts lover & eco-defender urban yuppy on fixed gears!