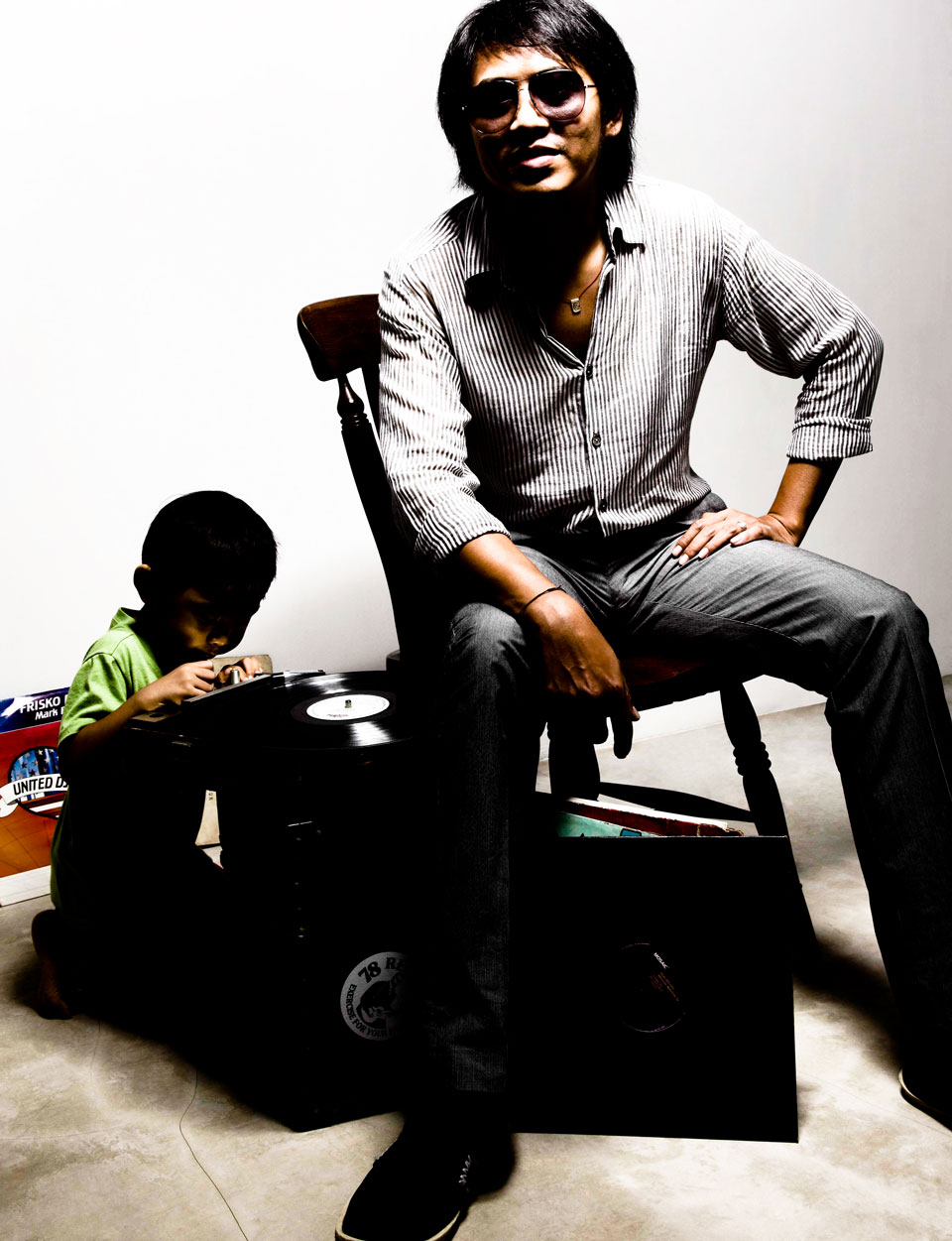 Here's the interview I did for the Beat Magazine Jakarta (The Beat jakarta 15) originally posted here.
Marlowe Bandem grew up in an artistic environment, and has blossomed into into one cutting edge graphic designer, artist and DJ. The Beat pulled a chair to to find out more about this multi-talented man.
Q: Marlowe, how did it feel , being raised in such an art influenced environment? How did it affect the way you grew up?
A: Surely suffocating. I mean you get encircled by too many great figures, accompished artists, quick-witty thinkers and brave souls that don't necessarily push you to the right direction. There were times when I believed I couldn't accomplish many and do good in such milieu. As I matured, I embraced music and believed in it since.
Q: How do you cook it all to your own art form?
A: Those stomping grounds are my muse, thus my art serves the muse. Say the muse is this out-of-the-blue girl, then I'll faithfully cater for her needs. If a political struggle becomes the muse, I'll endure it all the way. If the muse is nothing, I'll mend something out of it. I'm just a chef, I'll combine and heat the ingredients in all its variety depending whose here for the feast.
Q: Does your father's big name (I Made Bandem) put pressure to your art producing, or is it a huge motivation instead?
A; Both at the same time. I find the proximity pleasing and gives me that added confidence, not to forget also all access to the art scene herein. Compounding that with the contemporaries surrounding me, life is good.
Q: Please define 5 Marlowe Bandem's most personal interest / pursue in life…
A: The tales of five? I just pursue my self; thrills not in the context of extreme sport; sounds/images close to the heart; and most definitely warm conversations over the coldest beer in town.
Q: Your graphic designs, what stories do they tell?
A: DigiArts are my designs against tyranny, my so-called perspectives of living life as part of a burden to the good mother-earth. It's simply an intimate medium where I share the beauty I have witnessed, the exuberance I have felt, and the anxiety I have suffered. The poet I am not, images do convey 1001 stories.
Q: You seem to avoid the limelight in DJing, playing in communities etc, what's the mission?
A: My spouse won't allow me to play in clubs (laughing) anymore. Too many occupational hazards, I suppose. Seriously, club is the place for me to wind up, plus playing clandestinely in communal settings does have it's own surprises.
Q: Name 3 of your favorite song in the playlist and why…?
A: I'll rattle and shake in all the right places by cutting up Everything is Borrowed (Jin Choi), then A Walk in the Dunes (Alexi Delano Mix) by Terry Toner and work the starry night by setting Other People (Original Mix) by Adultnapper on rotation.
Q: Any rituals for inspiration..?
A: Again, cold beers and tuning the dial to 98.5 FM The Beat Radio Plus. Everyday.
Q: You do some different activities in life. How do you keep your equilibrium steady?
A: Actually, I keep it real by doing the many things. It gives me the edge. You know, the more complicated and tense it becomes, the more creative one can be. You do live for the extremities.
Q: Any words to inspire new artists / musicians?
A: Do it as you mean it.
Interview by Athron McCann for The Beat Magazine Bali – Jakarta
Photo by Ade Adinata of 3 Graphis Bali
Wholehearted micro-banking supervisor, host of Deeper Shades of Wax Radio Mix 98.5FM TBRP (2009-2011), digital-arts lover & eco-defender urban yuppy on fixed gears!