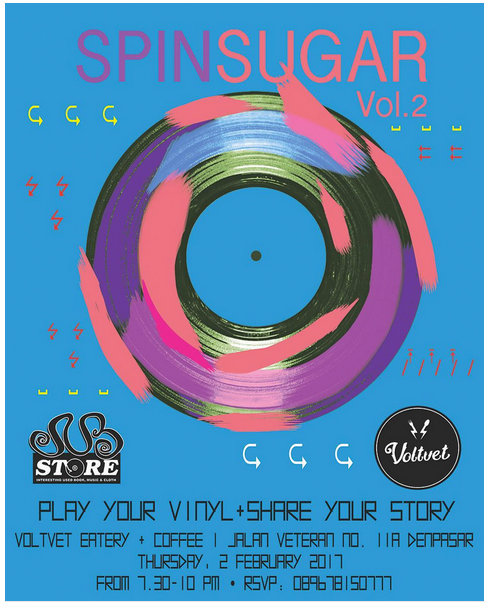 SPIN SUGAR adalah acara nongkrong sembari mengapresiasi musik rilisan fisik, khususnya piringan hitam dengan host tiga sekawan Ridwan Rudianto, Bobby Bikul (SID) dan saya, Marlowe Bandem di Voltvet Eatery & Coffee, Jalan Veteran No. 11 Denpasar, dengan jadwal pelaksanaan dua minggu sekali. SPIN SUGAR didukung pula oleh Substore Bali.
It is a night where music is championed and celebrated. Bring your vinyl collection, play one or two, and share the stories behind it.
.
What is your most prized record? Why you love records? How does music make you feel? No story too taboo for us, drop the needle and spin those sweet sugar stories. – Marlowe Bandem
SPIN SUGAR  menghadirkan para penggemar vinyl untuk memutar satu-dua vinyl dari koleksi mereka dan menceritakan kisah di balik rekaman itu, entah bagaimana mereka mendapatkannya atau makna dari lagu yang diputar itu bagi pribadi mereka.
Sejauh ini, banyak karib yang telah berpartisipasi, berceloteh dan bergurau sembari mendengarkan piringan-piringan hitam pelbagai genre, dari punk sampai funk, dari folk sampai deep-house. Walau belum banyak yang mau berkisah, mereka dengan riang silih-berganti menjadi selector, menunjukkan kedalaman apresiasi musikal mereka. Rata-rata, 20-30 lagu diputar sampai larut malam.
Salah seorang selector favorit saya adalah Andhika Gautama atau lebih dikenal sebagai "westside.muzeeq" yang telah mengoleksi rilisan fisik sedari usia 8 tahun. Selain mengoleksi banyak piringan hitam vintage dan rare 'langka', ia pun begitu terbuka dan lugas menceritakan suka-duka record hunting 'berburu rilisan fisik' tak hanya di Blok M, Jakarta namun juga di pelbagai situs lelang di Internet. Sebelum menjatuhkan jarum pada permukaan piringan hitam, ia tak pernah melewati ritual untuk menyeka, menggosok dan membersihkan permukaan piringan hitam dengan telaten. Ridwan dan saya pun menobatkannya sebagai Resident DJ SPIN SUGAR.
Di masa mendatang, SPIN SUGAR akan membahas secara detail hal-hal penting seputar rilisan fisik semacam Kisah Penggemar Piringan Hitam, Cara Mudah & Murah Merawat Koleksi Piringan Hitam, Cara Asyik Memulai Koleksi Piringan Hitam, Rilis Musikmu Pada Piringan Hitam, Skena Piringan Hitam Nusantara, Mengapa Membeli Piringan Hitam?, Membeli Piringan Hitam, Trend atau Investasi?, Analog vs Digital, Apa Bedanya?, Petunjuk Praktis Membeli Turntable, dan Bursa Piringan Hitam.
See you at the next SPIN SUGAR, follow and befriend Substore Bali (Instagram) for more info and updates.
Berikut beberapa image keseruan SPIN SUGAR. Press play and always keep it real!
Save
Save
Save
Wholehearted micro-banking supervisor, host of Deeper Shades of Wax Radio Mix 98.5FM TBRP (2009-2011), digital-arts lover & eco-defender urban yuppy on fixed gears!